Kiev City and Surrounding Cultural Villages Tour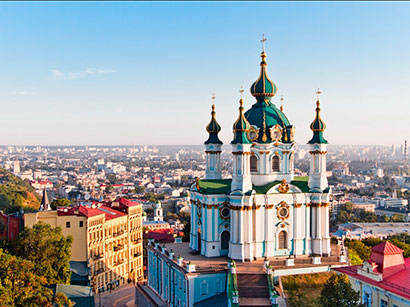 Pirogovo Open-Air Museum
Officially known as the National Museum of Ukrainian Architecture and Culture, the Pirogovo Open Air Museum is the largest open air museum in Europe. Covering 1.3 million square meters, it reproduces the traditional ways of living in different regions of Ukraine and is a great way to understand the way Ukrainians lived a hundred years ago. The museum is located just south of Kiev, next to the Holosiyivskiy forest and near the village of Pirogovo. Founded in 1969, it includes examples from all of the historical ethnographical regions of the country, as well from throughout the 16th through 20th centuries. Buildings include windmills and watermills, a traditional sauna, village administration buildings, a church school, a priest's mansion, cafes, huts and barns. Items on display include agricultural items, household articles, musical instruments, ceramics, clothing and icons.
The museum celebrates religious holidays in a traditional manner thanks to three orthodox churches on the grounds. Each weekend, visitors will find a variety of activities taking place, from markets to crafts classes to traditional Ukrainian singing and dancing.
Source: https://www.viator.com
Kievo Pecherska Lavra
Explore UNESCO World Heritage–listed treasures in Kiev,Kiev Pechersk Lavra or Kyiv Pechersk Lavra also known as the Kiev Monastery of the Caves, is a historic Orthodox Christian monastery which gave its name to one of the city districts where it is located in Kiev.
Since its foundation as the cave monastery in 1051 the Lavra has been a preeminent center of Eastern Orthodox Christianity in Eastern Europe. Together with the Saint Sophia Cathedral, it is inscribed as a UNESCO World Heritage Site. The monastery complex is considered a separate national historic-cultural preserve (sanctuary), the national status to which was granted on 13 March 1996. The Lavra is not only located in another part of the city, but is part of a different national sanctuary than Saint Sophia Cathedral. While being a cultural attraction, the monastery is once again active, with over 100 monks in residence
Currently, the jurisdiction over the site is divided between the state museum, National Kiev-Pechersk Historic-Cultural Preserve, and the Ukrainian Orthodox Church as the site of the chief monastery of that Church and the residence of its leader, Metropolitan Onuphrius.
Source: https://en.wikipedia.org/wiki/Kiev_Pechersk_Lavra
The Motherland Monument
One of Kiev's most striking skyline elements is the massive Motherland Monument, also known as Rodina-Mat. Standing at a colossal 62 metres high and visible from just about all over Kiev, there is no surprise in it often being described as one of the capital of Ukraine's most distinctive features.
Referred to as "Brezhnev's Daughter" by the locals, the Motherland Monument is a giant stainless steel statue modelled by Vasyl Borodai and built in celebration of the Soviet Union's victory over Nazi Germany in the Second World War.The sculpture is a part of the Museum of The History of Ukraine in World War II, and as a whole, its structure measures 102 m in height, with it weighing in at around 560 tons.
The slightly controversial (mostly around cost and choice of premium building material) statue was opened in 1981 (following a short two years of construction) in a ceremony attended by Soviet president Leonid Brezhnev. Interestingly enough, April 2015 saw the parliament of Ukraine outlawing all Soviet and Communist symbols, street names and monuments as a decommunization attempt, but luckily for Mother Motherland, World War II monuments are excluded from these laws.
Andrew's church, Andrew's descent, St. Sophia cathedral, St. Michael cathedral,Golden gate, Maidan-Independence squares
You will see the most interesting places of the Kiev during our Kiev Tour Among them are: Andrew's church, Andrew's descent, St. Sophia cathedral, St. Michael cathedral,Golden gate, Maidan-Independence squares